10 Appropriate Tips For glowing Skin In Summer Naturally
After a pleasant winter this year, we have surreally moved on to the summer season without even realizing it. No matter what kind of a person you are- summer or winter but the summers are here to stay. Why not tender to your skin a natural glow these summers, which we usually spoil by using shortcuts of artificial chemicals and quick fixes.
So, ditch that couch, pull yourself up, head to the kitchen and gear up! We are going to suggest a few things that your skin will surely thank you for!
Tips For Glowing Skin In Summer Naturally
1. Clean, Clean and Clean:
This is the number one requirement that you need to address as far as taking care of your skin is concerned. Always try to keep your skin clean and supple especially after you are back from all the pollution and dirt outside. Why? Because it is essential that your skin should be clean before it heads to the next steps of pampering. Try Sukrit Ayurveda's Face Brightening Lotus and Saffron face wash that is infused with potent Ayurvedic herbs which are known to improve skin texture. The face wash not only brightens dull and damaged skin but also makes it blemish-free. It consists of Turmeric that has anti-inflammatory and antibacterial properties which help in reducing pigmentation and brightens the skin tone. This amazing product has sandal that will protect you from the suntan, acne, keeps blemishes away and will prevent premature skin ageing. That's not all. This face cleanser also consists of aloe vera that will hydrate your skin from your morning tea to the evening coffee.
2. Exfoliate and Win the Beauty Game:
Cleansing is one thing that makes your skin feels great but scrubbing is something that you need to really take care of if you want great looking skin. The Anti Oxidant Fig Scrub by Sukrit Ayurveda really makes sense if you genuinely want to scrub those dead cells away. It is sulphate and paraben-free, anti-bacterial, removes dead skin cells, brightens the skin and prevents wrinkles. Not only this, it removes tanning and also acts on dark circles. So, you get so many benefits in one product and win the beauty game.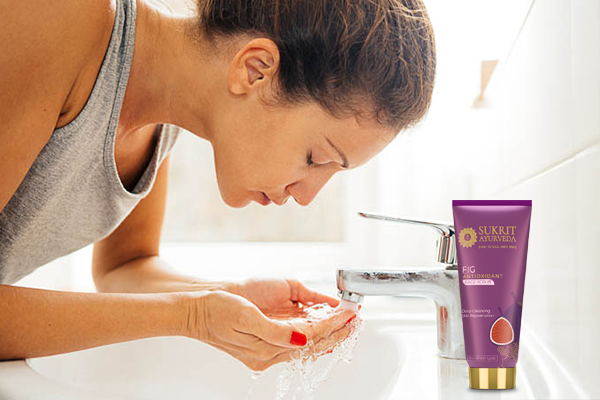 3. Tone Up and Moisturize Your Skin:
Your confidence plays a vital role in how your skin looks like and after all that cleaning and scrubbing, it is important that you need to tone and moisturize your skin. Toning is important because it helps to calm your skin and balances your skin's pH levels. There are a variety of herbal toners available in the stores to help tone your skin. As far as moisturizing is concerned, it is important that you moisturize your skin to help prevent irritation, breakouts and acne. Milk is a good toner and a good moisturizer too. So when in doubt what to use on your skin, just apply a few drops of milk and rose water on a cotton swab and you are good to go!
4. Add a Punch of Antioxidants:
Antioxidants help protect your skin against free radicals. They help to prevent the signs of ageing but also calm down your skin. Go for green tea that will make you feel rejuvenated and fresh. Green, white or black- these ones have many intriguing anti-ageing benefits. Choose Sukrit Ayurveda's Pey Herbal Tea that improves the digestive function, detoxifies the body, and also boosts immunity. It possesses anti-aging properties and gives you relief from stress and anxiety. This tea will help you boost up your immune system and has numerous benefits and helps to prevent you from infections. This formula will also prevent damage by free radicals on your face thereby slowing down the ageing process.
5. Add Fruits and Vegetables to Your Diet:
It is very essential that your skin shall glow not only from outside but from inside too. That's why you need to add a lot of good fruits and vegetables to your diet to help your skin get a glow from within. Try and incorporate lemon, papaya, cucumber, watermelon, oranges in your diet so as to get a boost of Vitamin C. you can easily add up these in your salad or make up a smoothie of one of these to drink your way to glowing skin. Watermelons and cucumbers are high in water content and have a cooling effect on the body. Also, now when summers are here, why not eat up that mango- the yum fruit that protects your skin from DNA damage and inflammation. You can add mango to your smoothie or fruit salad. Pomegranate is also loaded with antioxidants that help protect the skin from UV damage and skin pigmentation. Likewise, bananas, grapes and strawberries also have a great effect on your skin. As far as vegetables are concerned, go for leafy greens like spinach, kale which are a terrific way of getting antioxidants, tomatoes- rich in lycopene, that protects from UV damage, broccoli- rich in Vitamin C and for a healthy skin glow. Also add a variety of nuts to your diet like almonds, walnuts and also chia seeds to get that perfect skin.
6. Keep Yourself Hydrated:
During this crazy summer season, it is very important for us to keep our bodies hydrated to maintain a healthy essential glow. Always carry a bottle of water whenever you step outside. Drink at least 8glasses of water a day that will help your body get rid of toxins. Water helps flush out those toxins and you get a healthy glowing skin. Keep hydrating yourself with buttermilk, coconut water and fruit and vegetable juices.
7. Use Sunscreen:
Make it a rule-NEVER EVER step out of the house without applying sunscreen. The sun gives your Vitamin D but still being in the sun for a longer duration outside is not at all advisable for your skin as the skin cannot bear the harmful UV rays. Go for Ayurvedic sunscreen lotions that help your skin fight against the UV rays naturally and without a lot of harmful chemicals.
8. Proper 8 Hours Sleep:
Studies have shown that seven to nine hours of sleep per night is recommended for most adults. If you sleep less, that can help develop wrinkles, sagging skin and dark circles under the eyes. So ditch that phone and head to the bedroom for a relaxed sleep and skin.

9. Workout:
Any work out is better than no workout. Workout is something that your body needs to maintain levels of the stress hormone called cortisol. Exercise pumps up the heart rate and improves blood circulation which in turn gives your skin oxygen to breathe and builds collagen. Workout also promotes new skin cells which keep the skin glowing and gives you a long healthy life.

10. Light Dinner:
Eating light and healthy and early- is a mantra for the good glowing skin and that needs to be done day after day. The meals that you consume at night must be filled with healthy and happy foods for your skin such as vegetable stew or oats and spinach garlic curry. Eat it up at least two hours before bedtime.

Home Remedies To Restore Glowing Skin In Summer
While you head to the kitchen to cook that delectable chocolate cake, crunchy pizza or that desi pani puri, just take out no more than five minutes to gather ingredients to create a homemade mask/ scrub and you'll be equally proud as you were when you created that choco cake. Wondering what to gather? Go basic! Here are a few things from your kitchen that will help you get a wow skin.
1. Turmeric, Gram Flour, and Yogurt:
Just toss them up. This will not only be a decent cleanser but also will remove the aggressive tan and will brighten your skin up!

2. Tomato for Waving Goodbye to Pigmentation:
Just cut half a slice of tomato and rub it on your skin. Keep rubbing until you have extracted all its juice and let it dry. You will be left with smooth and bright skin.

3. Make Lemon Juice Your Best Friend:
Ssshh! That's a secret that you don't need to tell everyone. Lemon juice is a secret ingredient when used in combination with a variety of natural ingredients that will make for amazing face packs and scrubs. You can make a variety of packs like aloe vera and lemon. Mix up the Aloe Vera gel and lemon juice thoroughly and apply it to your face. Keep it on for 15-20 minutes and wash off with cold water. Another lemon face pack is a lemon, besan and raw milk pack which is a basic ubtan and you can add some rose water. This is an excellent way to lighten the skin tone and remove a stubborn tan in general. Lemon is an ingredient that helps you get clear skin and complexion over time when used regularly and in a good mix with various ingredients.
4. Just Chill and Head to the Freezer:
Many times, when normal face packs don't work, try freezing them up. Ice cubes can do wonders for your skin. These cubes lighten spots and add glow to the skin. You can try a variety of ice packs like potato ice face packs where you can peel and grate the potato and squeeze out the excess water. It will help you get rid of the tan and uneven dark spots. Likewise, you can grate a fresh cucumber and fill it with the water of the cucumber. Freeze! Take it out and rub it across and your skin will glow like sunshine. If nothing is available, just pour milk in an ice tray and freeze. Take one milk ice cube and rub on your face for 3-4 minutes. Wash your face and pat dry. Ice cubes improve the blood circulation and initiate a glow in your skin slowly.
Go for these easy-breezy tips for glowing skin in summer naturally and flaunt like a diva, all the year-round!