Vision – Soil To Soul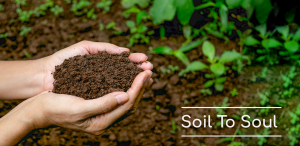 The vision and dream of connecting to mother earth and discovering the mysteries of nature began in the year 1924. Many years later, this vision and dream turned into a mission…a mission to touch and change the lives of people with nature's healing power harnessed through scientific researches. Inspired by the founder's unwavering belief in the ancient science of healing, Sukrit Ayurveda weaved a close relationship with nature and with a history of decades of researches, sought to revive nature's fortune to impart authentic beauty and wellness to the world.
Sukrit Ayurveda defines the journey from SOIL to SOUL
As mentioned above, our history is not new. To begin with, 'Sukrit holdings' first came in existence with the establishment of 'Sukrit Pharmacy' a 3 decade old GMP certified Ayurvedic medicines manufacturing company. Days were spent in exploring the world of herbs and several discussions were followed, with a vision to bring back the traditional science of Ayurveda in a contemporary form.  The products, over the years, have gone on to become the most sought out herbal medicines. Our medicines are meticulously created using original, time tested, and balanced formulations, encouraging healthy living and longevity. They have enjoyed massive public presence and success for their healing effects.
Our commitment has been to provide safe, gentle, and efficacious products infused with herbs and staying true to that, we further expanded our portfolio and launched our beauty and wellness brand Sukrit Ayurveda. Sukrit's credo has always been one of implicit trust in the curative and beautifying power of nature. Armed with a century-old, deep-rooted understanding of the atavistic code of delicate herbs, we extract the best from nature's bountiful repertoire. We at Sukrit, hope to create a brand that encourages certain lifestyle interventions and therapies to create a balance between body, mind, soul, and environment. As a step in that direction, most of our products are plant-based with no artificial colors, fragrances, petrochemicals, sulfates, or parabens. A PETA certified company, we are cruelty-free and do not support animal testing. Apart from this, we have full-fledged labs, research centers, and manufacturing facilities across the country.  Our prime objective is to bring the goodness of nature amalgamated with scientific researches.
We have our Naturopathy and Panchkarma centers where we identify the unique aspects of each patient and promote wellness by giving them natural therapies to restore back their physiological and psychological wellbeing.
In short, we are trying to align and create a synergy between Ayurveda and modern science and develop those beauty and wellness solutions, that promise health and happiness to every human heart. With this staunch spirit, we aim at reaching every nook and corner of the country, working with local forest communities, small scale farmers, and artisans to source pure and natural ingredients and infuse them with our products.
Organic Farming & Goshala
Our products search for the hidden treasures from mother earth. We have hundreds of acres of ORGANIC Certified land for farming with a century-old understanding of the biological clock of plants, which subsequently helps us to know the right time to pluck, for extracting maximum nutrients. We have our base in farming at some of the beautiful locations in the country. One such location is Jakuradhar, a small village (in the jiribam district of Manipur) with the tribal population of Manipur. The villagers are well aware of the age-old ways of herbal farming. The area is completely hilly and a biodiversity hotspot. The herbs are grown in a natural habitat and completely free of chemical-laden fertilizers.
We have our own Goshalas, across the country where we provide shelter and food to Indian breed cows. Those Gaushalas are our main source of milk and Ghee which is the most important ingredient to make many of our products and distribution among poor and needy people. Healthy feed and old-age ways of milking the cows help to preserve the maximum nutrients in the milk. Indian breed cows are known for their A2 type milk which has innumerable health benefits.
Social Responsibilities
'Name Tree' is a pious mission of the organization for a green world. The world has seen its trees disappear alarmingly fast due to industrialization and urbanization, which have drastically lowered the green cover. This has brought many environmental problems to the world like increased carbon footprint, rapid climate change, degradation in the quality of soil, and adverse effect on bio-diversity. 'Name Tree' is a plantation initiative intended to inspire people of every age group to plant at least 1 tree with their Name (Naam) so that they can take care of the tree as their own.
You can join this mission at https://nametree.org
We have been working in collaboration with a seven-decade-old organization, the SSDVYS 'Sadguru Sadafaldeo Vihangam Yoga Sansthan' which has a global presence with more than 300 centers. SSDVYS is affiliated with the UN-Habitat and upholds "a Special Consultative Status with the ECOSOC since 2013″. We are helping organizations to run its various social projects like Women empowerment, Child care, Skill Development for poor, Free Education for children, Blood donation camps so and so forth.