How To Boost Immune System Naturally
Let us first understand, what immunity is and what it does. Have you ever thought of considering immunity as a superpower? Now, how is that a superpower? Immunity means, being protected from something and also being unaffected. We are well aware that there are numerous pathogens around us in the form of bacteria, viruses, and other microorganisms.
Dr Yellapa Reddy, the Governing Council Member of the Foundation for Ecological Security of India, stated that the immune system fights off the diseases in our body. And air pollution hampers that very immune system.
Reddy says that people with a weaker immune system not only catch diseases easily, but that it is also difficult for them to fight against life-threatening ailments.
The Fit India Report 2020 points out that 20.8% of the total people that were surveyed fell ill more than three times a year, due to low immunity levels.
Isn't it surprising that we don't get sick too often?
The answer lies in our immune system which gives us immunity in different ways and protects us from diseases. Hence it is of utmost importance to strengthen our immune system in order to attain vibrant health.
Healthy Ways to Boost the Immune System
To put it simply, since our immune system's job is to defend our body against illness and disease, it is important that its components perform in complete harmony. Some general healthy-living strategies can undoubtedly give our immune system an upper hand. Below are some tips to boost the immune system naturally:
1. Eating Healthy
A healthy diet has a great impact on our immune system. Hence our meal should be planned with foods that can boost our immune system naturally. Fruits and vegetables rich in nutrients have antioxidant properties. This increases the oxygen level and enhances the immune system. Nutrients like zinc, iron, copper, and vitamins like A, C, E, B6, and B12 are those which are required to enhance immunity. Whole plant foods like fruits, vegetables, nuts, seeds are rich in nutrients and antioxidants, helpful in fighting harmful pathogens.
2. Keep Stress Under Control
Stress imbalances immune cell functioning. Ongoing stress can severely depress our immune system and make us quite susceptible to disease and illness. It is important to adopt effective stress-reduction techniques, like yoga, meditation, and other mindfulness practices. Stress-reducing activities should be performed every day.  Working out is one of the ways to boost the immune system.
3. Adequate Quality Sleep
A quality sleep heals and regenerates the body and thus develops our immunity. Adequate sleep produces cells known as T cells, which play an important role in the body's immune system. They activate a kind of sticky protein, known as integrins, which kills all the infected cells. During sleep, the body also produces another kind of protein, cytokines, which fight inflammation and thus protects our body.
4. Engage in Regular Exercise
Staying active is very important to increase our immunity. It is vital to reduce the stress hormones to assist immunity and this can be effectively done through regular exercise. Fitness activities circulate the antibodies and white blood cells quite rapidly, which lowers the level of stress hormones. This keeps the body free of pathogens. However, the key is that the exercises should be done in moderation, as too many of these can cause stress and depress the immune system.
5. Being Wise About Supplements
Some studies indicate that taking supplements strategically can strengthen our immunity. Daily doses of 1000-2000mg of Vitamin C reduces the duration of colds in adults and children (8 % in adults and 14 percent in children). If we do lack in the sunshine vitamin, a moderate daily dose of Vitamin D can be taken for protection. However, it is always recommended to go back to food rather than taking supplements to enhance our immune system.
6. Stay Hydrated
Drinking water regularly has numerous health benefits. It flushes out toxins from the body, removes waste, and helps body systems function quite optimally. It ensures that there is a proper movement of oxygen to each and every cell of the body, through the blood. Thus it keeps the body healthy and maintains a strong immune system.
7. Minimize the Consumption of Alcohol
Consumption of alcohol is directly linked with any kind of health disorders, whether mental or physical. Alcohol has adverse effects on the body's immune system, thus making the body quite unable to ward off a pathogen. It can lead to serious diseases like pneumonia, tuberculosis, etc. It also kills some healthy bacteria, which plays a key role in promoting health and removing the infection. Alcohol intake should be minimized if we want to protect our immune system from diminishing.
 Engage in Mindful Practices to Increase Immunity
Ayurveda recommends many subtle therapies to support immunity. These therapies not only cleanse our nadis (subtle channels of the body) but they also relieve stress. Hence it becomes important to include such practices and therapies in our daily routine.
Pranayama
Prana, the vital breath is considered as the life-giving force. It is stimulated by breath and infuses every cell and tissues. Practicing Pranayama every day helps to soak our tissues in fresh prana. We have various pranayama to provide specific support to our immune system. Ujjayi (Breath of victory) for Vata, Sheetali (cooling breath for Pitta), or kapalbhati ( Skull Shining breath) for Kapha. All three of these are tridoshic, and hence any practice can be chosen according to the indications and benefits of each one. Nadi Shodhana also offers powerful support if stress is depressing the immune system.
Yoga
Yoga is another factor that imbibes prana in the body. It encourages fluidity throughout the tissues and helps to dissipate tension. It gives a holistic uplifting approach to the entire body and helps in reducing stress. It lowers the stress hormones and calms the nervous system. It also conditions the lung and respiratory tract to bring oxygenated blood to the various organs so that they function optimally.  It also helps to balance the doshas, whichever requires the appropriate attention.
Meditation
Meditation helps us to engage with our bodies in a clearer, healthy, and detached way. It helps us to calm down our nervous system, decreases stress, makes us more conscious and alert to our thoughts and action. Meditation thus encourages a healthier response to any kind of stressful situation. So start practicing meditation as early as you can.
Herbal Support For Promoting Immunity
Ayurveda suggests a number of herbs that support our immune system. Each of these herbs has an affinity with specifics tissues and systems in the body, and thus they encourage in their own way to develop optimal health and proper immune system. Let us talk about some such substances.
1. Turmeric
It is a medicinal plant that increases the immunomodulation capacity of the body, and thus naturally helps to bolster the immune system. Adding extra turmeric in our diet reduces stress and boosts our immune system naturally. It also eliminates toxins from the digestive tract.
2. Ginger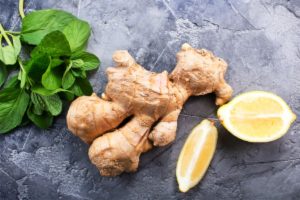 Ginger is known for its antimicrobial and antioxidant properties, which play an essential role in enhancing immunity. It reduces inflammation and keeps the immune system quite balanced. It boosts the immune system when it is under-active and suppresses it when it is overactive.
3. Tulsi
Tulsi has a lot of health benefits. Known as holy basil, it has diverse healing properties. Tulsi leaves have been considered as nature's best antibiotics. Chewing 10-12 leaves daily, keeps the blood pressure under control, and prevents stress. It increases resistance power naturally.
4. Chyawanprash
The nutritional value of Ayurvedic Chyawanprash has been identified in Indian homes, for ages. It strengthens our immune system and helps in fighting everyday infection, like cough, cold, and flu. Sukrit Ayurveda Chyawanprash is highly recommended by nutritionists due to its countless benefits. It is highly rich in antioxidants and helps the body fight against several diseases. Infused with several herbs, it promotes proper food digestion. It flushes out toxins from the body and thus keeps the energy level always high. Amlaki is the core ingredient of Sukrit-Ayurveda Chyawanprash, which makes it highly rich in Vitamin C. Amlaki has numerous other health benefits. It helps in reducing obesity, fights cholesterol, maintains blood sugar levels. The Chywanprash also has a unique cooling property that heals any kind of pain caused due to vata. Some other key features of this unique Chyawanprash is:
Boost Immunity
Skin Rejuvenation
Increases stamina
Enhances Respiratory health
Strengthening the reproductive organs
5. Herbal Tea
"Sukrit Pey Herbal Tea" is another revolutionary product by Sukrit Ayurveda. While normal tea can leave us with many gastric disorders, this amazing herbal tea works for the overall wellness of the mind, body, and soul. It is a great immunity booster, quite rich with many antioxidants. The antioxidant properties reverse the signs of aging by preventing the damage of free radicals. This makes one look quite young and fresh. An instant sip brings the mind in an immediate calming state, hence making it a great stress buster. Let us look at some other health benefits:
Boosts up the Immunity System
A great relief from stress and anxiety
Lowers blood pressure
Promotes skin health
Slows down aging
Reduces inflammation
BACK TO BASICS
Immunity can always be enhanced by taking a basic self-care, a healthy diet, and a supportive lifestyle.  Proper nutrition and adequate sleep can bring wonders to our health, resulting in a strong immunity. Our body does better when it is ready to manage stress and embrace life in its true essence. A healthy body when aligned with a healthy mind, cultivates the innermost strength and supports us on our journey towards immense happiness, health, and a robust immune system.